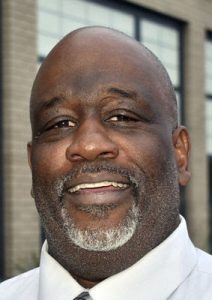 Darwin Watson was born and raised in Benton Harbor, Michigan where he received his elementary education in the Benton Harbor Area Schools district.  He received his secondary education in the Coloma Community School district, graduating in 1986.  Watson received his bachelor's degree from Grand Valley State University in 1993.
For the entirety of his 20+ year career in public service, he worked for the City of Benton Harbor, Michigan.  During that time, Watson worked in several capacities being appointed Public Works Director in March 2008, Assistant City Manager in March 2009 and ultimately serving as City Manager from February 2014-July 2019.  As City Manager, he was known as an honest ambassador for the community, being able to work across multiple boundaries to move the community forward in a city known for acute personal and political divide at the leadership level.  Additionally, Watson is well respected by government leaders throughout Southwest Michigan, as well as leaders in the private sector.  Known as a "straight talker", he was able to build teams vertically and horizontally within the region.
From preparing budgets, building staff capacity, overseeing assets, to project management and fostering quality relationships, Watson's background has been characterized by steadfast commitment to fiscal responsibility and achieving municipal objectives.  He possesses the ability to take a "step back" to envision the future of the community on a macro level and shift into the "nuts and bolts" of operations.
Taking Oath of Office
City Clerk, Amy Fidler, swears in Darwin Watson as the City Manager of the City of New Buffalo.