Serene paddling in beautiful New Buffalo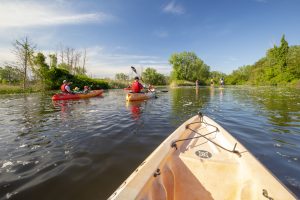 Looking for something unique and fun to do in New Buffalo? Want to explore New Buffalo's abundance of freshwater fun? Look no further! Third Coast Paddling's Galien River Kayak & Paddleboard Rentals is it.
You and your family and friends can experience what most visitors (and locals) never get to see as you lazily paddle on the mellow, winding Galien River. Paddling up the slow-moving Galien River offers a serene, easy kayak or stand-up paddleboard (SUP) unguided tour on an unspoiled river with and an abundance of nature and wildlife such as Great Blue Herons, deer, rarely seen birds, beavers and other local flora and fauna.
What to bring
Dress for the weather; come prepared to get a little wet from the drip of your paddle and be out in the sun. Lightweight, synthetic clothing is best. Sunglasses, sunblock and a hat. You can bring camera's, but they do have the possibility of getting wet, so bring a water proof bag. No alcohol allowed!
Pricing
$25 per hour for a single kayak or paddleboard with paddle and life vest
$30 per hour for a double (tandem) kayak with paddles and life vests
$25 per hour for a stand-up paddleboard with paddle and life vest